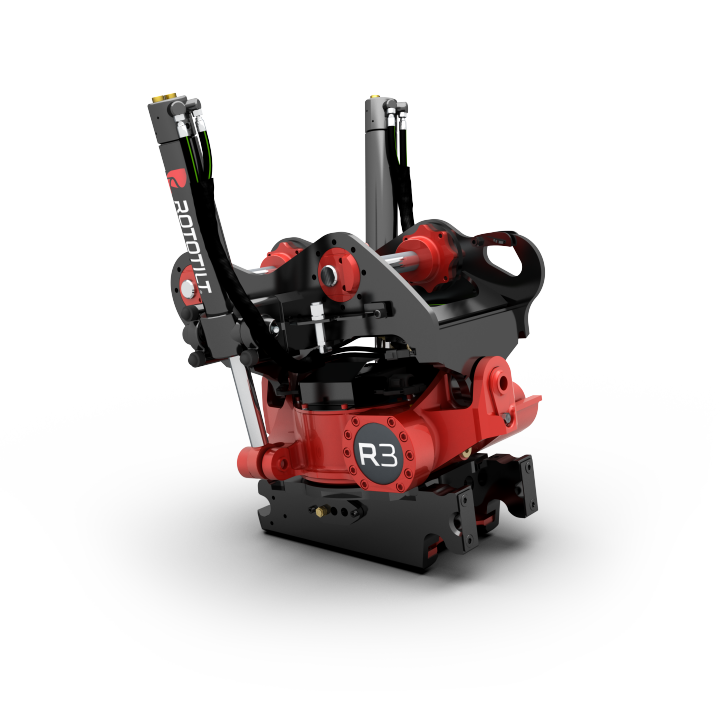 Rototilt® R3
FOR EXCAVATORS 6-12 TONNES. The tiltrotator R3 is adapted to an increasingly popular segment in the excavator market and can handle higher machine weights up to 12 tonnes.
The R3 is available with ICS - Rototilt's smart control system - the markets most flexible. Add the SecureLock™ option, which confirms that the attachment is correctly coupled, and you have one of the world's safest tiltrotators.
Key advantages of the R3 are the smart design with integrated swivel (with the options of a High Flow Swivel and electric swivel), enhanced hydraulic connections as standard (ORFS), fully integrated central lubrication and load-holding valves on the tilt cylinders. The hydraulic system is developed to operate at up to 250 bar for maximum performance.
Extensive options when it comes to the selection of control systems and configuration
ICS – a user-friendly and reliable control system with extensive flexibility
SecureLock™ – confirms engagement and continuously monitors locked attachment status
RPS – position sensors compatible with the industry's leading excavating systems
Efficient hydraulics and the tiltrotator's low weight help minimise the machine's fuel consumption
Download the product sheet (PDF)
Enter specificationsfor a custom product sheet.
Technical data
Machine weight

13230 - 26455 lb

6000 - 12000 kg

Max bucket width

59 in

1500 mm

Max breakout force'

18210 lbf

81 kN

Max breakout torque

62695 ft.lb

85 kNm

Weight (from)

639 lb

290 kg

Tilt angle (2x)

40°

40°
Rotation speed (1 rotation per)

7.0 s at 13 gpm

7.0 s at 50 l/min

Working pressure

3626 psi

25 MPa

Max return line pressure

290 psi at 24 gpm

2.0 MPa at 90 l/min

Min hydraulic flow

12 gpm

45 l/min

Recommended hydraulic flow

20 gpm

75 l/min

Number of lubrication points

6

6

Turning torque

4868 ft.lb at 3626 psi

6600 Nm at 25 MPa

Tilt torque singe-acting cylinders

15860 ft.lb

21500 Nm

Tilt torque double acting cylinders

19545 ft.lb

26500 Nm
{{Selected.Name}}
{{measure.Text}}
{{measure.Value}}
{{SelectedLocalMeasures[$index].Value}}
{{measure.Prefix}}
{{SelectedLocalMeasures[$index].Prefix}}
{{Selected.Name}}
{{measure.Text}}
{{measure.Value}}
{{SelectedLocalMeasures[$index].Value}}
Contact us for drawing documentation regarding this variant