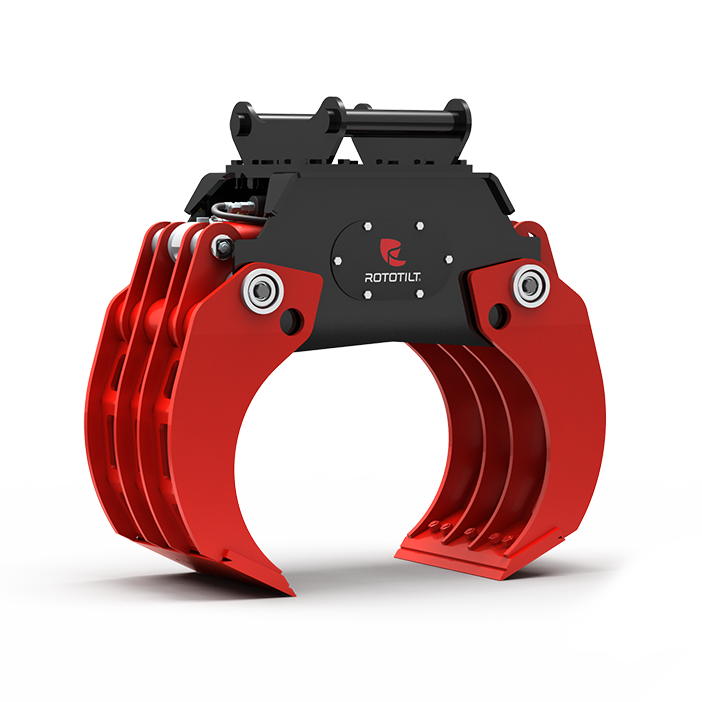 Grapple SG40
With lifting capacities of up to 12 metric tons and clamping forces of up to an incredible 16,850 lbf, our stone grapples are perfect for heavier tasks such as handling boulders, lifting timber, demolition, and scrap sorting. 
The stone grapples are engineered for truly tough jobs, maximum safety and long service life. They have expander pins for simple readjustment and smarter maintenance and one of the market's biggest grapple widths.
Additionally, all of the stone grapples have end position buffering which automatically decelerates the grapple claws at their fully open position eliminating shocks and resulting in less wear and increased service life for the product and components.
Adding a stone grapple will make your machine even more versatile and able to handle really tough sorting assignments quickly and efficiently. Both multi-grapples and sorting grapples are customized for Rototilt's tiltrotators. There is also a size to fit every tiltrotator, which means you can exploit your machine's full capacity without having to compromise on flexibility.
Accumulators and load-holding valves for maximum safety.
Double parallel shafts for maximum performance.
Expander pins increase service life and lower service costs.
The replaceable cutting edges are manufactured from tempered drilling steel for maximum
durability.
Robust chassis, generously dimensioned and optimized for best durability.
End position buffering for cushioned operation and minimal wear.
Wide grapple claws (extra wide for SOG80) for maximum stability during lifts.
Grating-style grapple claws for best durability and optimized weight.
Bucket roof adapted to fit different attachment systems provides inbuilt flexibility. Modular, easily adaptable
The market's biggest grapple width means you can use the full impressive clamping force.
Technical data
Minimum working pressure

190 bar

190 bar

Maximum working pressure

250 bar

250 bar

Pressure relief valve

250 bar

250 bar

Recommended flow

60 l/min

60 l/min

Max flow grapple closed (+)

41 l/min

41 l/min

Max flow, grapple open (-)

25 l/min

25 l/min

Gripping force - arms open

37 kN

37 kN

Gripping force - arms tip-to-tip

2029 Nm

2029 Nm
Max permissible load

7000 kg

7000 kg

Weight

465 kg

465 kg

Grapple area

0.2 m²

0.2 m²

Max grip width

182 cm

182 cm

Min. diameter

41 cm

41 cm

Width

54 cm

54 cm

Height, tip-to-tip

89 cm

89 cm

Height, max grip width

68 cm

68 cm
Measurement specification