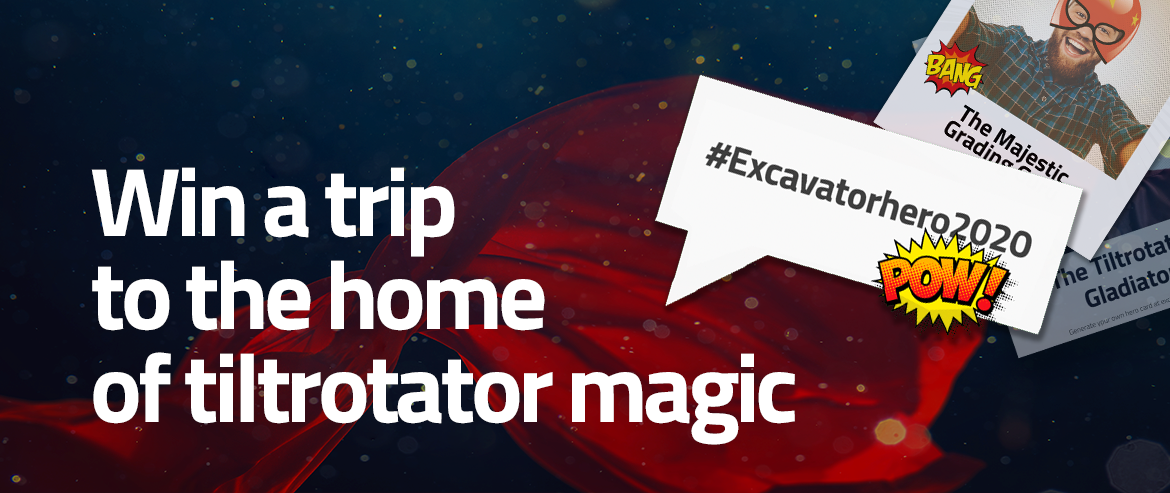 #excavatorhero is back
What's your superhero name? Create your superhero and share your superhero picture with your friends on social media. Plus, you can compete for a trip to the magical centre of the tiltrotator universe – the #excavatorhero contest is back!
We've created the hero generator to draw attention to all of you everyday heroes out there. Create your own hero picture and share it with your friends and the rest of the world. Let's join in and spread the word about all our unsung heroes, carrying out great deeds that people seldom see. Together you accomplish thousands of tasks, each important in their own right. That rarely get any attention but that are very much involved in shaping our future.
In addition, you can compete for a trip to Rototilt and Vindeln, Sweden, where you will be treated to an experience out of the ordinary.
To enter: Visit excavatorhero.com and create your hero picture. Enter the contest by describing your superhero powers and posting your hero picture on Instagram and Facebook, tagging the post with #excavatorhero2020.
NOTE: Keep in mind that your profile must be public in order for us to be able to see your entry!
Take the chance. Show the world the people behind all these small wonders. From the entries we receive we'll then choose the winners, who will represent all the everyday heroes. The winners will be rewarded with a trip to Vindeln in the heart of Sweden, to visit Rototilt's head office. During their visit, the winners will be given unique insight into Rototilt's development and manufacturing processes, as well as the chance to influence future products.
The winners will receive:
As part of the visit, you will meet Rototilt's development department along with your fellow winners and find out about some of the secrets behind Rototilt's technically successful products. You'll also get the unique opportunity to offer input on the next generation of tiltrotators, control systems and tools.
Naturally, you'll get to experience the beautiful wilderness of which Vindeln is so proud, the elemental forces that have often inspired our product development work.
Following a tour of the factory, all the talk about technology and some time in the wilderness, you'll probably be ready for a hearty meal sourced from Vindeln. And you'll deserve it!
Competition rules
#excavatorhero is a global social media photo contest. What we want to do is highlight the important work carried out by contractors and excavator operators to a wider audience, but with a light-hearted touch. #excavatorhero 2020 has two parts – a hero generator and the opportunity to compete with a hero picture.
The contest is open to all, regardless of excavator and tiltrotator brand (could be, you don't even have a tiltrotator yet...). To take part in the contest, you must have an open profile on Instagram. You can submit multiple entries. Employees of Rototilt cannot be contest winners.
To participate, visit excavatorhero.com, create your hero picture and let us know there that you want to participate in the contest. Now upload your photo to your feed on Facebook or Instagram, and tag the photo with #excavatorhero2020.
A jury consisting of representatives from Rototilt's marketing department and TR Reklambyrå will select the winners among those who have published their #excavatorhero hero picture on social media (Instagram and/or Facebook) and have given the best descriptions of their superpowers. The jury's decision is final. The winners will be contacted via Instagram and their names published in our social media channels as well as at rototilt.com.
The contest runs between 17 April and 30 June 2020. Entries that are posted before or after the competition period will not be considered.
The winners will be contacted via DM on Instagram and names published both on Instagram as well as on Rototilt's website and Facebook page by the winning entries being regrammed (meaning the winning photo will be shared in the relevant channels and the winners' names posted).
The prize, a trip to Rototilt's head office in Vindeln, Sweden and related activities, cannot be exchanged for cash or goods. Any tax to be paid by the winner. Trip scheduling will naturally be adapted to the corona situation and current recommendations from health authorities.
By using the hero generator, you also agree to electronic storage of your photo and generated name (which is a prerequisite for the generator to work). No names or entries will be saved after the end of the contest period (30 June). You also agree to the terms of use for Instagram and Facebook, and that generated hero images/names may be used in Rototilt's promotion of the contest during the same period. The participant is solely responsible for not violating copyright law or constitutional delimitations in freedom of expression. Of course, as a participant, you may not publish material that violates Swedish law, best practices or Rototilt's fundamental values. Thus, it must not contain libellous, harassing, discriminatory, threatening, persecutory, or similar attacks which in any way violate the rights of others. Rototilt reserves the right to report imagery or names deemed illegal or otherwise ethically or morally inappropriate, as well as imagery that may be subject to copyright infringement. These images will also be removed from the contest. In the event of breach of the contest rules, any of those who have breached the rules shall be solely or jointly liable for any claims, and shall hold Rototilt exempt from all damages.
These contest rules were established in April 2020 by Rototilt Group AB in Sweden, which also has the right to amend and/or revise them and decide on their closer application. This competition is not being conducted in partnership with or being sponsored by Facebook or Instagram.