Ontario Contractor Puts 30,000 Hours on His Favourite Attachment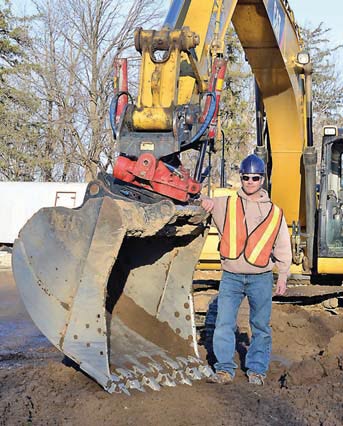 "That Rototilt never comes off the machine; it stays on365 days a year, explains company co-owner," Tyler Chute. Chute Construction is a fully equipped contractor of large and small residential, commercial, and industrial projects.
Chute Construction, based out of Brantford, Ontario, has put approximately 30,000 hours on the company's original RT60 Rototilt tiltrotator.
"That Rototilt never comes off the machine; it stays on 365 days a year," explains company co-owner, Tyler Chute. "Even if we work with concrete or in frost, we still use it. Depending on the application, we just change the bucket. With Rototilt, we eliminate the need for another machine."
Chute Construction is a fully equipped contractor of large and small residential, commercial, and industrial projects. They provide rough grading, final grading, fill removal, complete site preparation, and designing services, as well as landscaping, drainage and demolition services.
The company purchased the tiltrotator RT60, as well as another Rototilt tiltrotator, back in 2002. "At the time, we had been looking for years for a way to perform our grade jobs better," says Chute. "We had considered a ditching bucket, but decided to pay the higher price and purchase a Rototilt." According to Chute, it did not take long for the company to see big benefits to their investment. "Immediately, we decreased our ground crew from two to one. Also, moving objects fastened by chain to the excavator is easier and now we can get a solid grip of armour stones when we use our grapple. Placing stones is also now a breeze."
Excavating and grading are the company's main line of work. "When digging a basement, we can get the machine lined up with the wall, and don't have to manoeuvre the excavator to the perfect spot ," explains Chute. "Also, on the grading end, with the Rototilt tiltrotator, we can do swails or grade in a front or back yard. We can't fit a dozer in between houses, but we can fit an excavator. We used to put 2,000 hours on a dozer each year, but now we don't even put 400 hours a year. We no longer have a full-time dozer operator, and we don't have to float another piece of machinery to a jobsite. By using an excavator equipped with a tiltrotator instead of a dozer, we save about $60,000 each year. And, equipment maintenance and purchases costs are down, because our dozer lasts longer. We used to change out the dozer every 4 to 5 years, but since purchasing the Rototilt tiltrotators, our dozer has lasted 15 years."
Rototilt also comes in handy when working to contain demolition materials following a fire. In fact, Chute Construction is often in called in to assist the Fire Marshall's office. "We'll get the call and they'll want a machine on site right then," says Tim Chute, who co-manages the company with Tyler. The tiltrotator minimizes the need for a swinging crane and allows sensitive areas to be contained more easily. "As long as you replace seals and bushings (when necessary), the Rototilt tiltrotator will last longer than the carrier," says Chute.
Chute Construction's first Rototilt tiltrotator is now attached to a Caterpillar 321 LCR reduced radius excavator. The other Rototilt tiltrotator that the company had purchased in 2002 was traded in for a newer model a few years ago, and now has nearly 12,000 hours and is equipped to a Caterpillar 320 EER. Both excavators are designed for working in tight spaces.
"Rototilt is great to deal with," says Chute. "You can't ask for better service. Their knowledge of hydraulics is second to none, and they have been very responsive to the few issues that we have had throughout the years."

The Chute Construction legacy began back in 1947 and spans four generations. Stan Chute and his son Del launched one of the first excavating services in Brant County, and it wasn't long before they became known for their high-quality work. Del was an innovator who brought specialty equipment to the job and the know-how to use it. In the early 1970's, Del's son Mike took over the operation and, today, the company continues the legacy with his sons, Tim and Tyler Chute, who co-manage the operation.