Versatility Digs Up Business Opportunities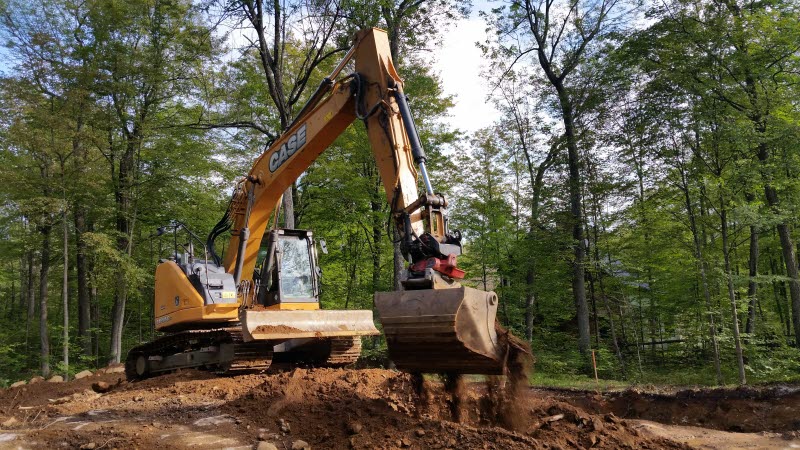 After more than 22,000 hours running excavators equipped with a Rototilt® tiltrotator, one thing is certain: Pete Stroeder Contracting depends on Rototilt to deliver in his niche of tackling tough projects with creative ideas and strategies to turn vision into reality.
Profile: Since 2001, Pete Stroeder Contracting Inc. has taken on challenging projects to practically and efficiently turn a client's vision into reality. The company brings leading-edge tools and technology with a highly experienced team capable of turning bush lots into the landscaped properties of a client's dreams or shaping bunkers and fairways into award-winning golf courses.
Company: Pete Stroeder Contracting Inc.
Location: Kemptville, Ontario
Specialization: Residential, Golf Course Construction and Land Clearing
After more than a decade operating with tiltrotators from Rototilt®, Pete Stroeder Contracting Inc knows Rototilt and its wide range of tools boost on-site efficiency and deliver a higher quality product for golf course owners and homeowners.
"I'm not someone called in to just dig a hole. Almost anyone can move big dirt or dig a pond, my projects tend to be more specialized and require a little more thought or strategy to get the results the customer is looking for," says owner Pete Stroeder. "I look at the whole project in a strategic way to try and anticipate potential problems, so we can address them in the beginning not down the road when the fix gets more expensive."
With two machines equipped with Rototilt tiltrotators, Stroeder says he can't imagine working on landscaping, residential and golf course projects without an excavator equipped with a tiltrotator.
"I can approach a job from any angle. You're not committed to working from a single direction like a regular excavator," he says. "You don't paint yourself into a corner when you're excavating, and you don't drive over a finished product to get out of an area."
Taking Chances
Stroeder saw his first Rototilt tiltrotator while he was living in Orangeville but never saw it operating. After moving to Kamloops to build Tobiano Golf Course in 2006, he was in the market for a new excavator to move from an 11-ton to a 20-ton machine. He decided the time was right for Rototilt.
"After I first saw it, I started thinking about what I could do with it and it expanded from there."
He bought a Volvo 210 from Great West Equipment and while they had no experience with Rototilt at that time, they made all the arrangements.
Stroeder says he wasn't worried about taking a chance on a new piece of technology.
"I've never waited for the big guys to adopt new toys. In this business you have to be willing to take chances and test out new tools because, like the Rototilt tiltrotator, they can change your business in an amazing way."
Since that first Rototilt-equipped excavator, Pete Stroeder Contracting has continued to regularly upgrade its fleet and its tiltrotators, which he uses for all his landscaping and shaping projects. Today, the fleet includes a Case 235 with a Rototilt R6 and a Case 75 with Rototilt R3, as well as a Volvo 240 for land clearing, and a John Deere 323 Skid steer.
Unleashing 3D Creativity
When the Volvo 210 with a Rototilt RT60B was delivered to Kamloops' Tobiano Golf Course, everything changed for Stroeder. After using a wrist for more than 10 years, the Rototilt tiltrotator took excavation and shaping from two dimensions to three dimensions, which was a game changer.
Tobiano's dramatic landscape made it a perfect testing ground for the tiltrotator. With sharp ravines and major grade changes on every hole, Stroeder quickly realized that 360-degree rotation with 45-degree tilt let him shape with precision and turn an architect's ideas into a playable, award-winning course.
"It made things that much easier and it took less effort to create the things we were trying to do like tying in greens to the bunker edges."
When putting in a bunker complex, Stroeder says a Rototilt-equipped excavator will shave 30 to 40% off the shaping time, which when you're looking at the short golf course construction season, means you can get it completed faster.
"You've got a narrow window to get things done so that 30% helps with time to completion and lets you fit more into windows of opportunity."
Making a Quick Change
In the past, Stroeder relied on a manual quick coupler to change attachments but the Rototilt Hydraulic Quick Connection, called QuickChange™ makes using his wide range of attachments quick and easy.
Where manual quick couplers could take up to 10 minutes to change over from one attachment to the next, he can move from the G bucket to trenching bucket to clean up blade in five seconds.
"Your hoe is more flexible, and one machine can be used for everything you need," he says. "I bring to the table a lot of different attachments to my jobs. With Rototilt, I'm always thinking about new ways to use it to save me time, be more effective and deliver a better product."
Designing a Difference
"I'm known for having the tools to do the job," says Stroeder who has bought or designed a wide range of tools including G buckets and tooth buckets, the 10-foot blade, combination digging and finishing buckets, frost picks, and a universal quick coupler so that he can use all his skid steer attachments including a grapple bucket and forks.
"Some of the ideas might sound crazy but the tools and options I can bring to a site thanks to the tiltrotator have paid off and brought me more and more work. My entire business is built on word of mouth so it's important to me when I leave a site, people can see a finished, high quality project."
"You can take a wet site and make it look clean, you can take bony site and make it look level and smooth. It gives everything that spit polish, so your clients can see how their project will look when it's finished," he says. "You can hit any grade any angle, so you can come out of a ditch a swale through mud through anything and it is more advantageous than a 6-way blade on a dozer, and you don't have to float in a bunch of different machines to do the same work."
He's currently looking at a screening bucket to provide additional services when backfilling around trenches or homes, but that's not the last tool he'll add. As Stroeder realized 10 years ago, the possibilities with a Rototilt-equipped excavator are endless.
In Control
Since 2006, Stroeder says the Rototilt control systems have continued to improve with more use-friendly features. From the original RT60 controls to Prop Plus and the new proportional controls on the R6 and R3 models, Stroeder says running a Rototilt tiltrotator has become even more fluid to run and easier for less experienced operators.
The latest tiltrotators are equipped with a next generation ICS control system that provides detailed settings pre-programmed for specific applications, and precision proportional controls. The ongoing system improvements have not gone unnoticed for Stroeder who appreciates upgrades to the control systems since those early days.
"It's like every time you buy a new car, it has new features you have to learn but one you get the hang of them, you can't live without them!"
Staying Ahead of the Market
In 2008 (and the global economic crisis), Pete Stroeder Contracting relocated from BC to the Ottawa area. He needed to make name for himself in this new area, but also in a new market because golf course construction had come to a halt and the recession meant work was scarce.
"We walked into a new market and it just took a couple days for everyone around us to open their eyes to the possibilities."
"It would have been almost impossible to get my foot in the door (during a recession and in a new market) without Rototilt. That's what set me apart from every other operator looking for work. Once people saw it and saw what I could do with it, I was kept very busy, and every company I worked with instantly tried to copy what I was doing."
Eight years later, the contractors Stroeder worked with in those early days have added multiple Rototilt tiltrotators to their fleet.
"I really believe if you don't have a Rototilt today, you're going to need one to remain competitive," he says.