Rototilt taking its place at the world's largest construction machinery show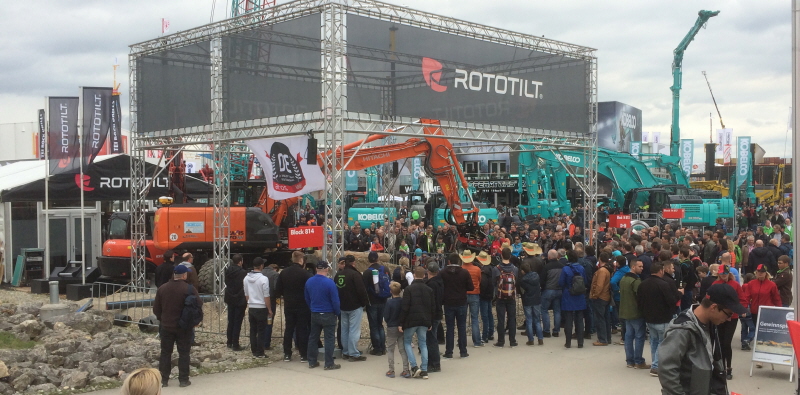 Bauma is very special for the construction machinery trade. Manufacturers, dealers and customers from all over the world gather every three years in Munich, Germany to see and experience the world's largest construction machinery show. Rototilt is making a major investment with its own display to show how a complete tiltrotator system changes the way excavator operators work around the world.
Rototilt is investing in a 250-square-metre display filled with tiltrotators, optimised tools and advanced technical solutions. Safety is a hot issue in the industry, an issue that also involves Rototilt. Considerable focus in the demonstration is on the patent pending SecureLock that ensures that are tools always correctly coupled.
"During Bauma, we can meet machine manufacturers, dealers and end-customers from all over the world," says Anders Jonsson, CEO for Rototilt Group AB. "With the strong demand from Central Europe and North America, it's important that we're at the show."
New tools are being launched at the show that further broaden the capabilities of a complete tiltrotator system. Developments in integration with excavators and other systems are also simplifying day-to-day operations for users. The demonstration, in collaboration with the global company Trimble, shows how tiltrotators and excavation systems are linked together.
"We're going all out in our demo, with an excavator, large LED display and demo speaker," says Anders Jonsson. "Bauma is an opportunity for us to get closer to our end-customers and show how tiltrotators can transform their excavators and their operations."
Rototilt's display is at FN. 914/9. Bauma is the world's largest construction machinery show, held every third year in Munich, Germany. In 2016, nearly 600,000 visitors from 219 different countries were in attendance.